About Us
Welcome to The Avenue Infant School
We are a nurturing, inclusive school in the heart of Wellingborough, Northamptonshire. Our dedicated, brilliant staff work tirelessly to give each and every child the best possible start to their school life. At the heart of all we do is our aim to nurture the talents of every child to develop strong foundations for future learning. Through our school values of

We develop strong and resilient children who love to learn and be a part of our school family.
Learning at The Avenue is interesting, relevant and, most importantly, fun! The children are posed learning opportunities that engage them, encourage collaboration, make them think, wonder and ask questions.
The school's Golden Rules help the children
to do their best in school.
The three golden rules are Be ready, Be respectful and Be safe.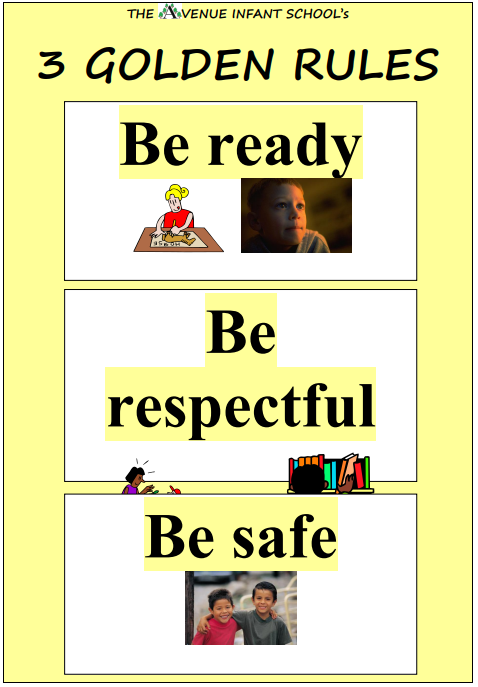 The children know following the Golden Rules ensures everyone is safe and happy......and consequently enjoy lots of Golden Time at the end of the week.
We very much value working closely with parents and carers, sharing information about the curriculum, progress and learning ideas for home.
We hope you enjoy exploring our website which is full of useful information and ideas.
What our pupils and parents say about us!
We LOVE receiving feedback from our pupils and parents...below is just some comments we have recently received.
Parent/Carer Survey Results May 2022
What our pupils say...
"I love The Avenue very much. I don't want to leave"
"I love my school because of my friends and my lovely teachers"
"I love EVERYTHING about school"
What our parents say...
"Everyone from reception staff, support staff, teachers and head teacher are amazing, friendly people who have made my child's experience of school something special."
"We love the playground and outdoor environment - strongly supports and values play as its own skill."
"I have never had an issue with The Avenue. Staff are always super friendly, school offers a lot of extra curriculum activities and does not put pressure on the children to excel. The support mu child has received has been exceptional. Will be sad when my child leaves to go to the junior school".
"We are happy with this school".
"My child is in a safe, caring and secure environment".
"Fantastic to know the support worker is there if we need her".
"Have only ever had small issues and all have been dealt with fantastically".
"My child's confidence has grown so much at The Avenue, and she is very happy coming to school every day".