Maths
Curriculum Intent: Maths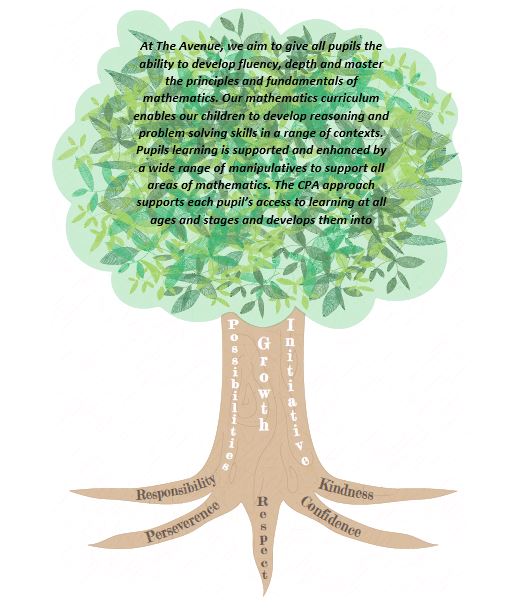 Possibilities - To have high aspirations and know all of the opportunities available to them.
Initiative - To take risks, become independent thinkers and be responsible for themselves.
Growth - To recognise and celebrate their own individual journey, understanding their own uniqueness and strengths and those of others
Implementation:
Our pupils should be able to organise their knowledge, skills and understanding around the following learning hooks:
Know and use numbers
Add and subtract
Multiply and divide
Use fractions
Understand the properties of shapes
Describe position, direction and movement
Use measures
Use statistics
These key concepts or as we like to explain them to children – learning hooks, underpin learning in each - milestone. This enables pupils to reinforce and build upon prior learning, make connections and develop subject specific language.
Aspirations For The Future
Pupils develop an understanding of how subjects and specific skills are linked to future jobs.
Here are some of the jobs you could aspire to do in the future as a Mathematician:
· Chief Test Pilot
· Automotive Engineer
· Astronaut
· Land Surveyor
For more careers, please visit https://www.firstcareers.co.uk/subjects/maths/
Impact
Assessment
Through the explicit teaching of the Mathematical skills, both the teachers and the pupils assess their learning continuously throughout the lesson. Our assessment systems enable teachers to make informed judgements about the depth of their learning and the progress they have made over time.
Pupil Voice
Snapshots
Here is what Mathematics looks like at The Avenue: