Our Learning
At The Avenue Infant School we believe that learning should be fun!
Our balanced and varied curriculum develops the skills and talents in every child.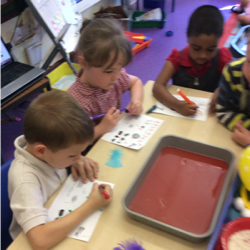 Click on the menu options on the left to find out more about specific areas of the curriculum.
Click on the link on the left to find documents showing our topics and areas of learning for each year group and subject across the year. Also to find homework sheets sent out each term to each year group. They will give you a brief overview of the learning that will take place and some ideas for work at home that you could do together. You will also find the end of year expectations for each year group for reading, writing and maths.
From time to time we like to take children out of school for parts of the day for learning outside the classroom. This may involve a visit to a local church for a celebration, to the junior school for a sports activity, a visit to a temple or a park or just a walk around the local area as part of work being undertaken in class. This does not cover school trips organised to support curriculum work that takes us further afield. On these occasions parents / carers will receive a separate letter and will be approached for permission for that specific school trip.
Our teaching and learning policy is also attached below for your information.
A detailed map of the learning which takes place for each curriculum area is also included below. For further information about an area of the curriculum, please speak to the curriculum area leader (information found on the staff page of the website).