Reading and Phonics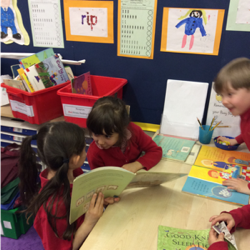 Reading
All parents commit to our 'ten minute reading pledge' by signing our Home School Agreement each September. We commit to reading to the children for at least 10 minutes everyday if parents also commit to do the same. Each classroom has its own levelled reading books for the children to choose from to take home. These contain a range of scheme books as well as 'real' books to offer children breadth and choice to develop a love of reading.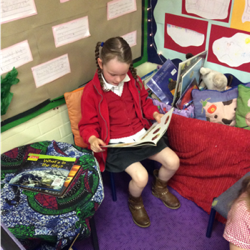 The children have the opportunity to borrow books from our school library. Children can earn stickers for reading at home by returning their signed reading card. There are reading challenges on the back of their reading cards which will earn them certificates for the completion of 5, 10 and all 15 challenges throughout the year.
In school children have many opportunities to read every day. Reception have regular guided reading sessions where the children read as part of a group with an adult. In Key Stage One the children have a daily 'Book Talk' session for 20-30 minutes. During this time they work in groups to read and discuss a variety of books. In the Summer Term, Reception and Year Two children read with each other in our weekly 'Reading Buddies' session.
Phonics
We use the 'Sounds Write' scheme in school to teach phonics. On their website is a free online training course designed to inform and support parents with the understanding of phonics and the way it is taught. A direct link can be found here:
https://www.udemy.com/help-your-child-to-read-and-write/
The children have a phonics session everyday for 20 minutes in Reception and 30 minutes in Years 1 and 2. The doccument attached at the bottom of this page gives more information about how children will initially develop their phonics skills.
This video demonstrates how to say the phonic sounds of English correctly.
Useful resources, apps and websites to support reading and phonics at home are:
http://www.oxfordowl.co.uk/for-home/reading-owl/fun-ideas
http://www.bbc.co.uk/bitesize/ks1/literacy/phonics/play/
http://www.topmarks.co.uk/Interactive.aspx?cat=40

http://www.topmarks.co.uk/Interactive.aspx?cat=43
Apps
http://www.teachyourmonstertoread.com/ipad
https://itunes.apple.com/gb/app/id769196201?mt=8&affId=1736887
http://mrthorne.com/apps/ipad-apps/
In the Autumn Term we hold Phonics Information Sessions for parents. Below is the information that we discussed. If you would like further information please speak to your child's class teacher or our English Subject Lead Miss Cotter.
Our annual reading and phonics booklet is also below for your information. This was sent home with all children in October.
At the end of Year One all children take a phonics test. Below is some information about the test and how you can support your child with their phonics development.